Faculty Chair Profile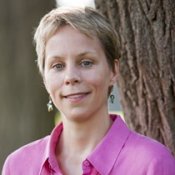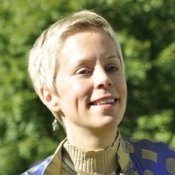 Augusta Read Thomas
NMS Composition Faculty
Composition Chair
New Music School is honored to have Augusta Read Thomas join the esteemed faculty at NMS as our Composition Chair. You can reach Augusta at AugustaReadThomas@newmusicschool.com.
The music of Augusta Read Thomas (b. 1964) is majestic, it is elegant, it is lyrical, it is "boldly considered music that celebrates the sound of the instruments and reaffirms the vitality of orchestral music."(Philadelphia Inquirer) Her deeply personal music is guided by her particular sense of musical form, rhythm, timbre, and harmony. But given this individuality, her music is affected by history – in Thomas' words, "Old music deserves new music and new music needs old music." For Thomas, this means cherishing her place within the musical tradition and giving credit to those who have forged the musical paths she follows and from which she innovates. "You can hear the perfumes of my metaphorical grandparents," Thomas states, "there is a wonderful tradition that I adore, I understand, and care about, but I have my two feet facing forward." Thomas' vision toward the future, her understanding of the present, and her respect for the past is evident in her art. Most striking in her music, though, is its exquisite humanity and poetry of the soul. The notion that music takes over where words cease is hardly more true than in Thomas' musical voice.
The American Academy of Arts And Letters has elected Augusta Read Thomas to membership. She was inducted in May 2009. The American Academy of Arts and Letters is an honor society of 250 architects, composers, artists, and writers. The honor of election is considered the highest formal recognition of artistic merit in the United States.
The citation, read at her induction into the American Academy of Arts and Letters, in May 2009:
"Augusta Read Thomas's impressive body of works embodies unbridled passion and fierce poetry. Championed by such luminaries as Barenboim, Rostropovich, Boulez, and Knussen, she rose early to the top of her profession. Later, as an influential teacher at Eastman, Northwestern and Tanglewood, chairperson of the American Music Center, and the Chicago Symphony's longest-serving resident composer, she has become one of the most recognizable and widely loved figures in American Music."
A passionate and devoted teacher, Augusta writes, "Teaching is a natural extension of my creative process and of my enthusiasm for the music of others. Working with students is a joy, a deeply felt commitment, part of my creative existence." She is in very close touch with 15-years of students. She is a devoted listener to the music of others and as such has a broad and deep knowledge of the music of our time.
She is the 16th ever University Professor (one of four current University Professors) at The University of Chicago. Augusta was an assistant then associate professor of composition at the Eastman School of Music from 1993-2001, and from 2001 until 2006 was the Wyatt Professor of Music (Endowed Chair) at Northwestern University. She currently continues her involvement with Northwestern University by serving on the Dean's Music Advisory Board. In the summers she often teaches at the Tanglewood Music Center. Augusta was the Director of the Festival of Contemporary Music at Tanglewood in 2009. Frequently Ms. Thomas undertakes residencies in colleges, universities, and festivals across the country and in Europe.
Thomas was the Mead Composer-in-Residence with the Chicago Symphony Orchestra from 1997 through 2006, a residency that culminated in the premiere of Astral Canticle – one of two finalists for the 2007 Pulitzer Prize in Music. During her residency with the CSO, under the direction of Daniel Barenboim, Thomas not only premiered nine commissioned works, but also founded, along with Cliff Colnot, and curated the MusicNOW series. In addition to Barenboim, Thomas' music has been championed by other leading conductors including Pierre Boulez, Esa-Pekka Salonen, Oliver Knussen, Seiji Ozawa, Mstislav Rostrapovich, Leonard Slatkin, David Roberton and Christoph Eschenbach. As well, her music has been commissioned by leading ensembles and organizations around the world including: Chanticleer - Love Songs; NDR (German Radio) Orchestra – Chanting to Paradise; Cleveland Orchestra – Song in Sorrow; Chicago Sympony – Orbital Beacons, Aurora, In My Sky At Twilight, Ceremonial, Carillon Sky, Words of the Sea, Trainwork, Tangle, and Astral Canticle; Pittsburgh Symphony – Prayer Bells, La Jolla Chamber Music Society – Bells Ring Summer; National Symphony – Cello Concerto, Galaxy Dances; Radio France and the BBC Orchestra – Violin Concerto; Dallas Symphoy – Helios Choros I; London Symphony and Boston Symphony – Helios Choros II; Orchestre de Paris – Helios Choros III; BBC – Pulsar; Utah Symphony – Terpsichore's Dream; Los Angeles Philharmonic – Canticle Weaving; and ASCAP Foundation – Cantos for Slava.
Her music reflects a deep love of poetry and she has set the words of many poets including Hopkins, Dickinson, Stevens, Shakespeare, W.C. Williams, Bishop, Basho, Rumi, Tennyson, and Cummings. Her first passion is to compose for voice. Augusta has composed several ballets (akin to the Stravinsky tradition) including Terpsichore's Dream, In My Sky at Twilight, Dancing Helix Rituals, Tangle, Ceremonial, and Dream Threads.
Ms. Thomas studied composition with Oliver Knussen at Tanglewood (1986, 1987, 1989), Jacob Druckman at Yale University (1988), with Alan Stout and Bill Karlins at Northwestern University (1983-1987), and at the Royal Academy of Music in London (1989). She was a Junior Fellow in the Society of Fellows at Harvard University (1991-94) and a Bunting Fellow at Radcliffe College – which is now, The Radcliffe Institute for Advanced Study at Harvard University (1990-91).