Faculty Chair Profile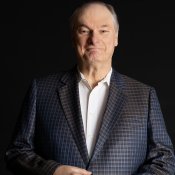 David Taylor
NMS Violin Faculty
Assistant Concertmaster, Chicago Symphony Orchestra
Known to Chicago audiences as a versatile soloist, chamber player, and orchestral musician, violinist David Taylor has been delighting Chicago audiences since 1979 when he became the Assistant Concertmaster of the Chicago Symphony Orchestra.
Born in Canton,Ohio in 1949, Mr. Taylor first studied the violin with his father at the age of four. Later teachers included Margaret Randall and Rafael Druian at the Cleveland Institute of Music, and Ivan Galamian and Dorothy DeLay at the Juilliard School, where Mr. Taylor earned Bachelor's and Master's degrees. In 1974 Mr. Taylor joined the Cleveland Orchestra, where he was a first violinist before coming to the Chicago Symphony Orchestra in 1979. Mr. Taylor has made fourteen appearances with the Chicago Symphony Orchestra with conductors Sir Georg Solti and Kenneth Jean. Critics praised his "well-focused tone, poised line, and aristocratic phrasing" (John von Rhein, Chicago Tribune), calling him "a splendid soloist" (Robert Marsh, Chicago Sun-Times). Mr. Taylor has been the Acting-Concertmaster of the Saint Louis Symphony Orchestra and Concertmaster of the Milwaukee Symphony Orchestra. He is the Concertmaster of the Ars Viva Chamber Orchestra. He also has played as Concertmaster with the Seattle and Dallas Symphonies.
A lover of Chamber music, Mr. Taylor is the violinist in the Pressenda Piano Trio, which performs regularly in Chicago. He is featured on a CD entitled 'Music Under the Dome' on the Naim label playing the Mendelssohn Octet, and on a CD with the Sinfonia Orchestra of Chicago on the Koch label. Mr Taylor gives recitals throughout the Chicagoland area, is heard often on WFMT, and solos with many of the local orchestras. He has performed in chamber ensembles at the Ravinia Festival with Schlomo Mintz, Lynn Harrell, and James Levine, and at Northwestern University with Daniel Barenboim and other members of the Chicago Symphony Orchestra.
Mr. Taylor teaches privately, at the Moody Bible Institute and at the Chicago College of Performing Arts, Roosevelt University. He is also Violin Faculty Chair at the New Music School. Several of his students were first prize winners in the WTTW Young Peoples Competition hosted by the Chicago Symphony. Mr. Taylor has twice traveled to Japanfor the Iida Foundation in order to teach Japanese orchestral violinists. He has also coached for the New World Symphony in Miami Beach, Florida. His students occupy seats in many of the finest orchestras of the United States, including the orchestras of Chicago, Pittsburgh, Saint Louis, Los Angeles, Milwaukee and the Metropolitan Opera in New York City.
Mr. Taylor is married to Michelle Wynton, also a violinist, and has a daughter Sarah, who lives in Wheaton, Il.
Mr. Taylor's violin is a J.B. Guadagnini made in Piacenza, Italy, in 1744.