Faculty Profile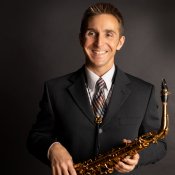 Eric Goluszka
NMS Saxophone Faculty
Eric Goluszka is a saxophonist and educator in the Chicago area. He is an active performer in a wide variety of genres including traditional and modern classical, jazz, salsa, and an assortment of popular styles. As a soloist, he strives to present a diverse selection of music in his recitals, often juxtaposing avant-garde saxophone works with baroque transcriptions. His command over contemporary techniques (such as circular breathing, multiphonics, and slap-tongue) has influenced the composition and dedication of new works for saxophone. Eric has performed throughout the Midwest United States, Canada, Southern France, Sicily, and Thailand, both as a soloist and as a member of ensembles such as the New Edmonton Wind Sinfonia, Rockford Symphony Orchestra, the Devil's Own Saxophone Quartet, and Orquesta Energia Salsa Band.
In 2003, Eric received a Bachelor of Music degree with a performance emphasis from the Uni versity of Alberta, in Edmonton, Alberta, Canada. While there, he studied with renowned saxophonist Dr. William Street and performed in masterclasses for top modern composers and saxophonists such as Gavin Bryars and Jean-Marie Londeix. Eric received a Master of Music degree from DePaul University, where he studied with Susan Cook. His other major teachers have been James Kasprzyk, Matt Olson, Tim Aubuchon, and Jeremy Ruthrauff.
Mr. Goluszka is in high demand as a saxophone instructor throughout the Northwest Suburbs of Chicago. His students have received first place medals at solo and ensemble festivals and have been selected for IMEA district and all-state honor bands. In addition to teaching private saxophone lessons, Eric also leads woodwind sectionals at William Fremd High School in Palatine, Illinois.