Faculty Profile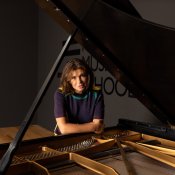 Nina Marder
NMS Piano Faculty
Teaching philosophy: if we teach with enthusiasm, students learn with enthusiasm.
Professional
Nina is a collaborative pianist, teacher and music educator with professional experience in performing with singers and instrumentalists and extensive teaching career.
Born in Kiev, Ukraine, Nina received her Bachelors degree in Piano Performance from Kiev State Music College. She earned her Masters Degree in
collaborative piano and pedagogy from Music Institute of Arts (Kharkov), where she was privileged to study with Regina Horowitz, a sister of legendary pianist
Vladimir Horowitz. After Regina Horowitz's death, Nina continued studies with internationally renowned pianist Vladimir Viardo in Moscow.
Right after graduation Nina accepted teaching position at Kiev State College and enjoyed her career as an accompanist/coach at the Opera and Ballet Theatre, working with
leading European opera singers and conductors. An experienced collaborative artist, Nina performed with many talented chamber musicians and opera singers in broadcasting concerts on many stages throughout the country before leaving to the United States.
Nina continued her music studies in Chicago, taking pedagogy courses at DePaul University and teaching certification at Northwestern University. She also received Suzuki certification with Yasuko Joichi. She continued her piano career, as a featured pianist at Michael Jordan foundation, performing for fundraising events hosted by Oprah and Jay Leno. She also served
as choir accompanist for Chicago Waldorf school and New Tried Hight school in Winnetka.
N.is a founder and a curriculum developer of Music Scholars Nationwide, Inc., an early childhood music and movement program that has been successfully running in many schools throughout Chicago area. The goal of the program is to promote learning and child's critical developmental skills through introducing child to the world of music.
Nina also has a long career of private piano teaching experience, many of her students have participated and won MTNA competitions. She is proud now to join New Music School faculty.
A passionate teacher and educator, N. serves as a league member for the CSO, advocating music education to Chicago public schools through the CSO outreach program.
Affiliations: Children's Music Network, MTNA, After School Matters, CSO league member.
Teaching
I believe in being deeply committed to a high standard of musical education. Our ultimate goal as educators is to help our students to develop a lifelong appreciation for music.
In my teaching approach, I love the opportunity to REALLY connect with students and enjoy building relationships with families, respect students individualities, help them to think creatively and guide their unique perspectives in music learning.