NMS Collaboration Partner:
Montessori Academy of Chicago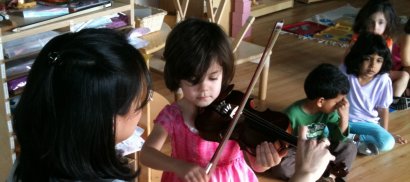 New Music School and Montessori Academy of Chicago (MAC) partner to provide all primary and elementary students with a comprehensive conservatory based foundational music education program. Students (ages 3+) with private music lessons. Private lessons will be offered in the following areas:
ABOUT NMS | New Music School (NMS) is a comprehensive music school in Chicago serving more than 500 private students. The program is overseen and taught by Chicago Symphony Orchestra musicians, renowned collegiate professors, and our world-class faculty. Lessons are offered in all orchestral and band instruments, piano, voice and guitar for students of all ages. Lessons and group instruction can be taught in classical, popular, rock, and musical theatre genres. Additionally, both private and chamber size music groups are available for instruction. New Music School has been recognized by Chicago Magazine as the Best in Chicago for students under 18 and Best in Voice by CBS News.

AT NMS's CORE | At New Music School, we believe in preparing the whole musician through a set of core musical principals - private lessons, theory/ear training, performance, collaboration, and Juries.

NMS students follow a specialized curriculum, which is divided into 5 levels. Each level is designed to achieve these core musical principals. Juries are the milestones through which students advance through the NMS curriculum. They are performances where students are required to demonstrate their abilities with level-specific technical exercises and repertoire.

HOW DO I SIGN UP? | The process is very simple. Before we ask new families to commit to a session of lessons, we want to make sure the student and teacher relationship is a strong one. So, we ask you to pay for one single lesson with the teacher. If it all goes well, then you can sign up for a session of lessons. Signing up is easy, just click on the link here (or on the event listed here) and go through the sign up process.

WHAT IF I DON'T SEE THE INSTRUMENT WE WOULD LIKE TO LEARN? | Easy, you can (as a MAC family) sign up with lessons at our convenient location in the loop. We offer all instruments and voice at our 310 S Michigan Ave. location. Please let us know you are a MAC family when signing up.

ABOUT THE TEACHERS | Just click on their names below and it will connect you to their bios. Depending on the demand, teachers may be added that are not listed here.
WILL KYRIAZIS, piano and general music
TBA, violin
LESSON FEES | Please note that the exclusive MAC lesson rates are for the teachers listed here. Any other teacher, outside of those listed here, may have a different rate due to their experience level within the NMS faculty structure.